Lets help VHT trails!
We need a wonderful volunteer to chair this committee. Please contact victorptsa@gmail.com if interested. Thank you!
About the Environment Committee

The PTSA Environment Committee is a committee designed to create a culture of environmental responsibility on the Victor Schools campus. The committee unites parents, students, teachers and school administrators in an effort to make real and sustainable changes in our campus community that will protect our children, staff, families and the environment for generations to come.
We believe in...

A healthy school environment, indoors and out.

Protecting the environment through our actions, including pest management,

lawn care, cleaning, recycling, buying practices, paper use, energy use, and

building practices.

Educating students, staff, and parents on environmentally responsible

practices.

Making the Victor School District a leader in the green schools movement

and a model for schools across the region.
For more information on the PTSA Environment Committee or to join us as a member, please contact Cindy Riley or Marianne Bennett at victorptsa@gmail.com.
---
Victor PTSA Environment Committee Recommendations for
An Eco-friendly Campus for Parents and Students

The PTSA Environment Committee is working to help 'green' our campus and we need your help! Please consider the following recommendations for the new school year and contact us if we have missed anything. We appreciate your support.

Recycling: Encourage your child(ren) to recycle all paper and plastic they use at school, including items brought from home. We recycle both items within the classroom blue bin. We also recycle in the cafeterias.

Snacks:
Send a refillable water canteen from home to help us reduce the waste associated with disposable water bottles and juice boxes.
Choose reusable snack containers and waxed paper to reduce plastic bag and container waste.
Provide paper party cups and plates rather than plastic or Styrofoam. Wash and reuse plastic utensils.

Supplies:
Choose paper folders and notebooks and wooden clipboards.
When donating art and craft materials, choose paper/cardboard/natural materials instead of Styrofoam, foam, plastic, and shaving cream.
Choose earth-friendly materials for homework projects and recycle when finished.
Reuse, then recycle papers sent home from school.
Please Check out the following link for information about PVC Free School Supplies

Cleaning: NYS law requires the use of green cleaning products provided by the district only.
---

Victor PTSA Environment Committee Recommendations for
An Eco-friendly Campus for Teachers and Advisors

The PTSA Environment Committee is working to help 'green' our campus and we need your help! Please consider the following recommendations for the new school year and contact us at cachitter@aol.com if you have ideas we've missed. We appreciate your support.

Recycling: Recycle all paper and plastic they can be placed in the blue bins within the classroom. Create a 'good junk' box and reuse recyclable materials once before recycling.

Art and craft materials: Replace Styrofoam, foam, plastic, and shaving cream with paper/cardboard/natural material alternatives. Use water based markers instead of permanent markers.

Photocopying: Copy flyers onto half sheets when possible and make double sided when needed.

Cleaning: Do not bring in cleaning products from home. NYS law requires the use of the green cleaning products provided by the district only.

Cooking in class: Don't microwave in or serve hot foods in plastic or Styrofoam containers.



Special Events

Science Fairs:
Use earth-friendly ingredients for science fair experiments and giveaways.

Recycling:
Add to Facility Request Form recycling containers for every event, indoors and out, one next to each trash container.

Food and Drinks:
Use paper plates, not Styrofoam plates or containers when serving food. Use paper cups for hot drinks, not Styrofoam.

Use water jugs and paper cups, not plastic or Styrofoam, in place of individual plastic water bottles.

If needed, wash and reuse plastic utensils.

Photocopying:
Copy flyers onto half sheets when possible and double sided when 2 sheets are needed.

When it makes sense, refer people to websites for more information in place of additional handouts.

Cooking:
Don't microwave in or serve hot foods in plastic or Styrofoam containers.
---
Environment Committee Accomplishments
Pesticide Reduction Program - Through our efforts, in 2009 the district implemented a Pesticide Reduction Program, starting with preK-6 schools and the YMCA grounds. In spring 2010, New York State passed the Safe Playing Fields Act, requiring schools to go pesticide free in 2011.

Annual Earth Day Celebration - Since 2008, we have held a very successful Earth Day Celebration, bringing a wide array of vendors and organizations together with students to help educate the community on sustainable living. The event draws 50-60 vendors and hundreds of visitors each year.

Recycling - The Environment Committee has worked with the school to ensure that recycling containers are available at all sporting events and after school events. We are working to increase recycling compliance in the classroom and cafeteria and at all school and non-school events on campus. We worked with the school to switch to single-stream recycling, so that paper, plastic, and metal can be recycled in classroom recycling containers. We are working now to create Recycling Committees at each school, starting with the HS and JHS.

Plastics Reduction - We have worked to reduce the amount of plastics and styrofoam used on campus by educating teachers and parents on alternatives, including reusable canteens and paper products for birthday and school events.

Idling - We have worked with the school to institute a campus-wide no-idling policy, which will reduce vehicle emissions and fuel consumption and protect our children's health.

Cleaning Products - We have worked with the schools to understand the district's compliance with the NYS Green Cleaning Law for Schools, asking teachers (and parents) not to bring toxic cleaning products from home that do not meet the State's green cleaning (less toxic) guidelines.

Lunch Trays - We researched the plastic our lunch trays are made of and found that they contained Bisphenol A. We presented our findings to the district Safety Committee, which agreed to phase out the trays, replacing them with another plastic not containing BPA.

District Web Page - On recommendation from the PTSA Environment Committee, in 2010, the school district added a 'Green Initiative' web page on its website. The web page documents the environmental initiatives implemented by the district, so that parents and visitors can see the progress the schools are making in 'going green.'

http://www.victorschools.org/district.cfm?subpage=6546

Classroom Education - The PTSA Environment Committee provides classroom education on environmental stewardship and making earth-friendly choices. We have made presentations to Primary School classes and are available on request.

Created Sustainability Plan recommendations for the district to follow as it seeks to become more environmentally friendly

PLEASE CLICK LINK ON THE LEFT TO VIEW THIS REPORT.

Drinking hoses - We learned that our children on sports teams were drinking water from outdoor garden hoses on campus, which can contain lead and other toxic chemicals. We asked Chris Marshall, Facilities Manager about finding a safe alternative and he was able to order safe drinking hoses for all locations.

We joined concerned Victor parent, Aimee Ruscioa in a meeting with the superintendent, technology director, and district doctor to discuss recommendations from the World Health Organization and American Academy of Pediatrics that children's exposure to emf radiation, including wifi be reduced. We hope this will be an ongoing conversation as we learn more about the health and behavioral effects of this type of low level radiation on children.
---
VCS PTSA Recycling for Field Trips Fundraiser
PTSA is raising funds to pay for field trips and our committee would like to do it through recycling. We have asked the Chamber of Commerce to help reach out to area businesses on this project.
ImagineIt Recycling is an organization that offers groups like ours money for recycling portable electronics and printer cartridges. For each piece donated, PTSA receives up to $1.00. We are asking area businesses to place ImagineIt containers in their buildings and donate the proceeds to PTSA for field trips. There is no fee for the ImagineIt container and ImagineIt will empty the container every two weeks (or as needed), requiring no work on the part of the host company. Most products are refurbished for reuse and all recycled materials are sent to EPA R2 certified recyclers, including RCR&R here in Victor.
If your business would like to participate, please click here to get started. Use VCS PTSA, 953 High St., Victor for charity name, address, and check information...
http://imaginerecycling.com/join-the-movement/start-recycling/
Thank you for your support of VCS PTSA programs!
Cornell Coop Ext. Lawn Care Almanac
Cornell Cooperative Extension Lawn Care Almanac, a monthly step-by-step guide for the year.

Great Info on Toxic-free Lawn Care
Lawn care fact sheets, including 8 Steps to a Toxic-free Lawn and chemicals harmful to children.

Safe Lawns - Free Lawn Care Video Downloads
Pesticides Tied to ADHD in Children US Study Finds
Natural Head Lice Treatment (Available at CVS or Online)
USPIRG Toy Safety Report
Red Ribbon Week
This year VCS is celebrating National Red Ribbon Week from October 25th – 29th. As you enter the campus you will see the Red Ribbons everywhere to show our support of living a healthy and drug-free lifestyle.
This year's Red Ribbon Week theme is "Drug Free Looks Like Me". Please take the time to have a conversation with your children about Red Ribbon Week and you can find resources listed at www.redribbon.org. Thank you for supporting VCS!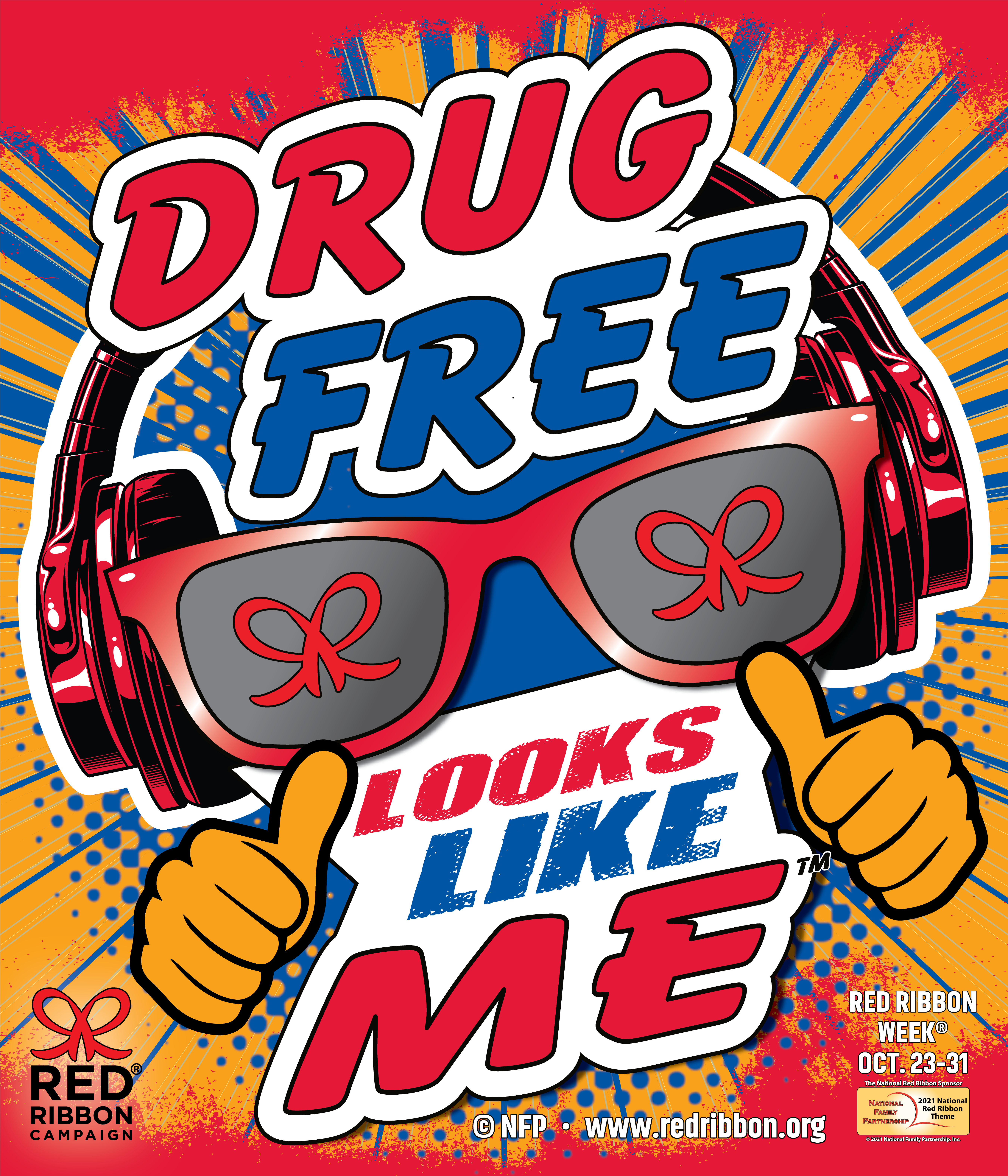 Spiritwear
Thank you to everyone who ordered Fall Spiritwear. It has been delivered to schools so be looking for it to come home as soon as the staff gets to distributing it to your designated student. If you paid extra for shipping to home, then it will be mailed this week as well.
Our winter online sale runs Oct. 20th-Nov. 7th. Items will be here in time for the Holidays as Victor Spiritwear make great gifts! Thank you
Click Here: Winter Sale
Upcoming Events
Wednesday, October 27
Thursday, October 28
21/22 Meeting Schedule: Location in VECS Boardroom unless noted.

Wednesday, 11.17.21 @ 7 - 8:15p.m.
Thursday, 12.16.21 @ 7 - 8:15p.m.
Thursday, 1.6.22 @ 7 - 8:15p.m.
Thursday, 2.3.22 @ 7 - 8:15p.m.
Thursday, 3.3.22 @ 7 - 8:15p.m.
Wednesday, 4.6.22 @ 10 - 11:15a.m.
Thursday, 5.19.22 @ 7 - 8:15p.m.
Thursday, 6.16.22 @ 7 - 8:15p.m.